I like Squarespace and enjoy building sites with it. It's a great little site builder that has many plus points, such as:

Quick to get content up there
Cost-effective
Super editor with Fluid Engine
Well-designed UI throughout the admin
Great templates to work from
Easy to use
Good overall feature set, recently added Courses
It's not without its flaws, however.
1.) Hosting and performance
Squarespace is hosted in the US, and you can't change that. It's not ideal if you are in the UK and your primary audience is there too. It takes a little time rather than skipping across the pond and back.
The performance rating on a testing facility like PageSpeed Insights returns a score of 45 on mobile. Whilst many ideas are much worse than that, it's not a good score, and performance could be improved.

2.) LESS preprocessor
The LESS preprocessor powers Squarespace, and many people in the web community prefer SASS. It does similar things, though, so it's a huge weight when it comes to Squarespace's flaws.
3.) No Development environment
Ideally, you should test your proposed changes on your computer or development server and then transfer those changes to the live site. Squarespace has no development environment, and you are editing the live site the whole time.
4.) Only 1 level deep of dropdown navigation
There is an option of getting mega menus in Squarespace by transplanting the footer navigation to the header. It feels clunky(maybe the purist in me). Drag and drop folders one level deeper for another layer of navigation. Many Squarespace design would benefit from this.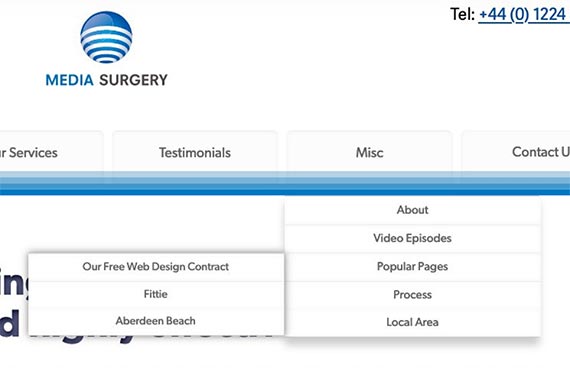 5.) File Support
I'm sure it will come with time as Squarespace and the web move towards newer file formats such as .svg, .webm and .webp.
6.) Variables
I appreciate it would change the fundamentals of Squarespace, but having some global variable system would be a worthy addition so as not to repeat the same content repeatedly.
7.) Backup facility
It would be great to have a full backup of the site; even though you can currently do things to back up each page and section, it's a bit of work.
8.) Access to more or all of the HTML
Again, this one would change how Squarespace fundamentally works, but it would be nice to have access to more of the HTML.
What would you like to see in future editions of Squarespace? Leave a comment on the YouTube page.
Last updated: